Frankfort, Ky. (June 24, 2022) – The Republican Party of Kentucky issued the following statement after the U.S. Supreme Court issued a ruling in Dobbs v. Jackson Women's Health Organization.
"Today, the United States Supreme Court delivered a historic, pro-life decision, allowing the states and the people to enact laws protecting the lives of the unborn.
For a half century, unelected judges have dictated America's abortion laws. The faulty constitutional reasoning in Roe was even criticized by the late Supreme Court Justice Ruth Bader Ginsburg. This decision returns the abortion issue back to the states and empowers the American people, including those in Kentucky. In fact, Kentuckians will have an opportunity this November to vote yes on constitutional amendment #2 to further cement our place as state for life.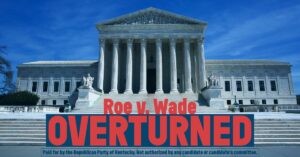 As a post-Roe era begins, Republicans are committed to working to build a culture of life that embraces children, mothers, and families, and provides resources, support, and kindness to them all."