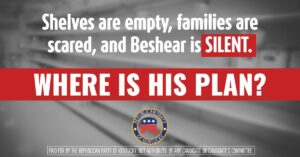 Op-Ed: What is Kentucky doing about the formula shortage?
By Representative Kim Moser
Kentucky families are going day to day not knowing if the formula they need for their infant will be available. Store shelves are empty, with store signs limiting how much formula desperate parents can buy when they do find it, and we have heard nothing from Governor Beshear on what families are to do.  More than 55% of Kentucky retailers are out of formula stock. Families are frightened and worried about feeding their babies.  With the frequency of press conferences out of the Governor's office, why hasn't he shared a plan to ensure that Kentucky families have baby formula? To get to the heart of this current problem, we must go back to where it all started.
In September of last year, a child contracted a potentially deadly bacterium, Cronobacter sakazakii, after consuming powdered formula from the Abbot Manufacturing Facility in Sturgis, Michigan, the maker of Similac products. Following the first diagnosis, reports found that four more babies had contracted this bacterium after consuming the same formula. A whistleblower from inside the plant reported to the Food and Drug Administration (FDA) in October 2021 their concerns about sanitation issues in the factory; they also reported that records had been doctored to hide quality checks. The FDA failed to investigate the Abbot facility until February 2022, when it then shut down production at the plant and recalled the formula, five months later. The Biden administration continued without a response or plan until just a few weeks ago, seven months after the initial report of infant illness. This means that for five months, the FDA did not investigate these claims, and for seven months, the Biden administration did not take any action, putting more children in danger and creating a formula shortage with no plan to increase production elsewhere. This manufacturing facility makes up 40% of the baby formula market in the United States, so it is deeply concerning that the FDA knew of these claims months ago, but did not disclose an investigation.  In order to prevent this from happening again, we deserve to know exactly what and how this happened, to ensure safety and a supply chain of these critical products.
President Biden and his administration have attempted to remedy the shortage by invoking the Defense Production Act to speed up baby formula production. They have also created Operation "Fly Formula," which allows baby formulas to be shipped to the United States from overseas. Last week, the first shipment of 40 tons of formula arrived from Germany and will hopefully provide some relief, but it still leaves frantic parents to wonder what the next couple of months will look like.
The Kentucky Cabinet for Health and Families Services has expanded the Women, Infant, and Children Program (WIC) to offer more types of baby formula, creating more access to a variety of formulas for lower-income families. While the cabinet expanded the program to include more formulas back in February, they continue to widen the scope of covered formulas to help address the shortage.  These adjustments allow families eligible for WIC families to buy formula they might not have in the past, but it does not increase the supply.
As a former Neonatal Intensive Care Unit Nurse, I know how crucial it is for formula to be widely available for babies and children. Mothers who cannot produce breast milk must rely on formula. Many infants have specific nutritional needs, and specialized formula provides the required nutrition babies need to grow up healthy. Countless families rely on formula for their children, but what are they to do if they cannot find it anywhere?  With frequent price gouging practices, when families do find their formula, on-line pricing is often exponentially higher than otherwise. There are countless questions to be answered by our Governor. While we are happy to help cut ribbons across our state, families and infants are suffering, and there is no direction when we really need it.
Governor Glenn Youngkin of Virginia has stated that his administration has promised to work with Virginia's Health Department to make sure there is enough formula and has even asked the FDA to use any available resources they have to ramp up production. Governor Phil Murphy from New Jersey signed an executive order declaring a state of emergency to activate state price gouging laws. Kansas Governor Laura Kelly has called on all state agencies to do everything possible to increase access to formula. She has instructed the Kansas Department of Health to implement waivers to provide maximum flexibility in making more formulas. As you can see, governors across the nation have been attempting to do something to increase access, but Governor Beshear has not implemented a plan. I am calling on him to make a statement and do what he can to address this shortage because Kentucky families struggle every day to find the necessary supplies for their children.
I believe Governor Beshear should enact an executive order to increase production of infant formula as did Kansas Governor Laura Kelly, and Governor Murphy of New Jersey to address the price gouging as parents should not have to pay double or even triple the price to feed their children. Kentuckians' wallets are suffering enough with inflation. They are paying double the price at the gas pump and grocery stores; they should not have to pay triple the price for baby formula. We cannot stand idly by and let our children suffer from a lack of attention to this important matter on both the state and federal levels.
As chair of Health and Family Services Committee, I will address this matter at the Interim Joint Committee hearing with the Governor's Administration at 11 am on Thursday, June 2 at the Northern Kentucky Convention Center. I have also reached out to Agriculture Commissioner, Ryan Quarles, who is calling for donations of Infant Formula through his Kentucky Hunger Initiative to increase the supply for families.
Representative Kimberly Moser chairs the House Committee on Health, Welfare, and Family Services Committee.