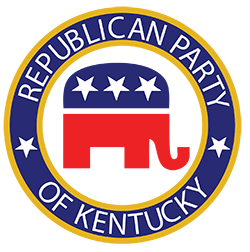 FOR IMMEDIATE RELEASE
August 18, 2016
CONTACT: Tres Watson, RPK Communications Director, (502) 875-5130
RPK On Air Supporting Candidates in 17 State House Districts
FRANKFORT- The Republican Party of Kentucky (RPK) revealed Thursday that they are currently on-air with radio ads supporting 17 State House candidates across the state. The buys are in addition to the two radio ads attacking House Speaker Greg Stumbo and House Majority Leader Rocky Adkins that were announced earlier in the week.
"Kentuckians want to see real change in Frankfort and we can't make it happen with the current Democratic leadership in the State House," said RPK spokesman Tres Watson. "This round of ads is just the first step in our efforts to elect a Republican majority in the House that will join with Governor Bevin and instituting real reforms that will move our state forward."
The party is running radio ads supporting incumbent Representatives Jim Gooch and David Hale as well as challenger candidates Joni Hogancamp (HD-3), D.J. Johnson (HD-13), Matt Castlen (HD-14), Jason Petrie (HD-16), Melinda Hill (HD-20), Steve Riley (HD-23, Robert Gullette (HD-39), Chad McCoy (HD-50), Phil Pratt (HD-62), Mark Hart (HD-78), Chris Fugate (HD-84), Toby Herald (HD-91), John Blanton (HD-92), and Frankie Justice (HD-94).
######