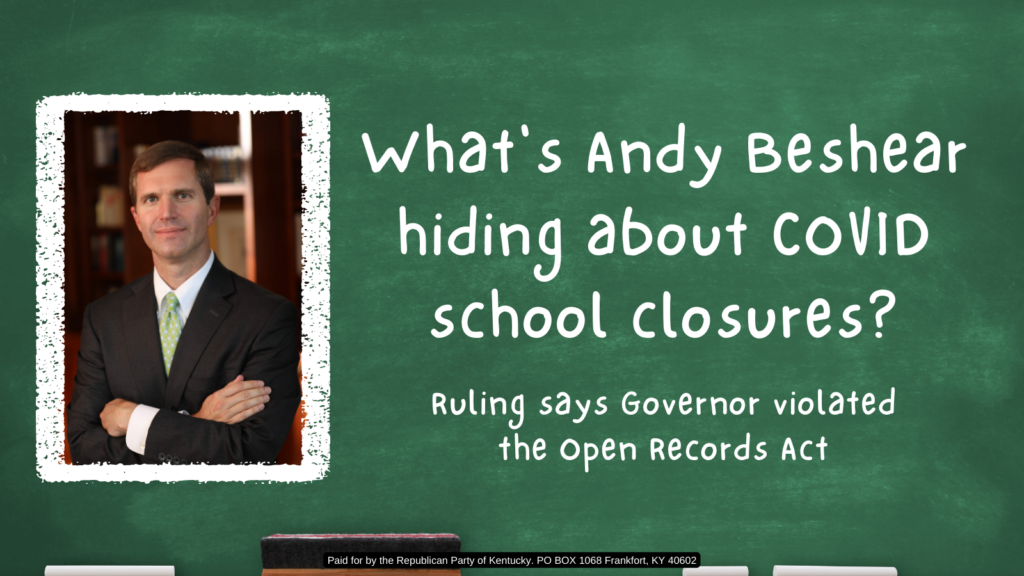 Ruling says Governor violated the Open Records Act
Frankfort, Ky. (January 18, 2023) – The Republican Party of Kentucky (RPK) is asking what Andy Beshear is trying to hide about his pandemic response after his office was found to have violated the open records act in stonewalling a request from the RPK which sought to examine correspondence related to school closures from 2020 to present.
"Andy Beshear continues to escape scrutiny for how he and his team made decisions related to school closures during the pandemic," RPK spokesman Sean Southard said. "After presiding over historic learning loss for students, doesn't Andy Beshear owe parents transparency about who was advising him and how he made decisions? What is he trying to hide?"
In the appeal from the Governor's office, the Governor's attorneys argued the RPK request was incorrectly framed because it "would require the retrieval and review of every other electronic or physical correspondence to or from the identified individuals over the span of more than three years to determine whether the correspondence contained one of the eight identified terms." The ruling said otherwise.
"It appears transparency about the education of our children isn't important enough to Andy Beshear to do a simple e-mail search," Southard added. "Given his gross mishandling of open records in the past, it is incumbent upon Andy and his team to be fully transparent with the public."
All documents associated with the request, including the appeal, the Governor's response, and the open records decision, may be viewed here.